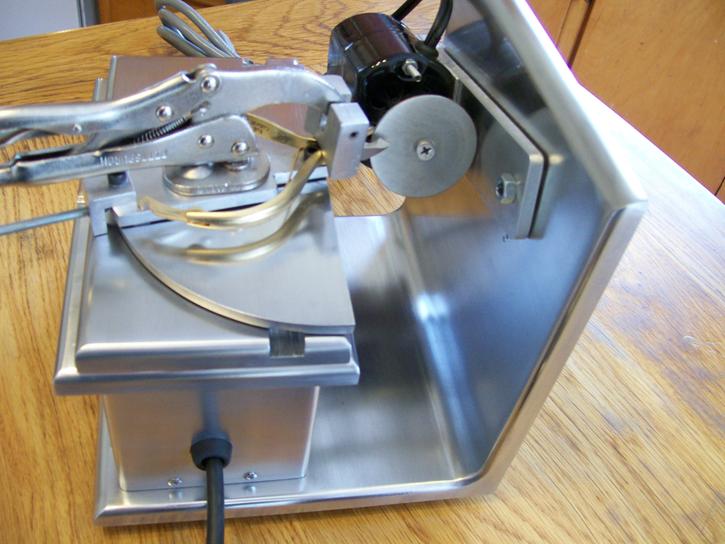 Our Ez-Vex Shear Sharpening System Proudly holds 2 Patents
Patent # 8,597,083 B2
Patent # 9,039,493
Our Nipper Sharpening System, Sharpens Cuticle & Podiatry Nippers !
Our Mail Order Sharpening Service Sharpens All These Items & More !
The Ez-Vex was Designed to give more choices for the Next Generation of Sharpeners. There is now another choice besides the old stand by verticle Grinder and a Flat hone. The New Generation of sharpeners wants a innovational sharpening machine that can address the issues of Easy Convexing while Keeping the Integrity of the shear and only removing as little metal as needed. It needs to be able to sharpen the titanium color coated shears without damaging the finsh of the shear and it needs to be able to sharpen the Long Curved Convex Shears that the other methods are unable to do with ease. Our Ez-Vex is the key to performace and speed with out removing un-neccessary metal. The Ez-Vex was designed to do what the new sharpeners coming into the field need and want our of their sharpening systems.
Click here to learn " MORE " about the Ez-Vex or Click on our Ez-Vex Page on the Navigation bar
We have been sharpening for Professionals since 1985. our mail in sharpening service offers a 48 to 72 hour turn a round time. we sharpen large and small animal clipper blades and barber and beautican clipper blades. we sharpen all style of scissors and shears, the convex and the long grooming shears are no problem for us. we use the latest technology in the industry today. we use the Ez-Vex sharpening system on all of our Groomers and Stylists shears. We also sharpen the cuticle nippers, pedicure nippers and podiaty nippers. Our sharpening company understands your business and we understand why it is important that your tools work properly for you.
Click here to learn "MORE" about sharpening services or Click on our Sharpening Page on our Navigation bar
Our company saw the need to design a specialized sharpening system for the cuticle and podiatry nipper instruments. Nippers are not like shears/scissors in the fact that nipper edges meet each other exact, while shears and scissors the blades by-pass each other. Nipper sharpening is more of a detailed oriented sharpening process. Our company felt that doing the nipper sharpening by hand with a file creates inconsistency in sharpening from nipper to nipper. Our Nipper Sharpening System sharpens both sides of the nipper edge at the same degrees. This gives the nippers edges a more consistent and even sharpening process. You do still have to tighten (or loosen) your nipper jaws at the pivot point but the actual nipper edge sharpening is being sharpened at the same angle on both inside edges of the nipper, this give the sharpening its consistency.
Click here to learn "MORE" about the Nipper System or Click on our Nipper Sharpening System Page